CHANGE THE DIRECTION OF YOUR DANCE EDUCATION, THIS SUMMER, AT ESSENTIAL ELEMENTS.
SUN AND SKY CAMP 2019.
A huge fan favorite, among our Beginner Movers ages 3-7!!!!
We begin our morning with the ever important building blocks of our Dance Education: Terminology and Etiquette through coloring and activity. Ballet, Tap, Jazz and or Creative movement fill most of our morning- followed by the highlight of the day…Eco Friendly Craft and body healthy snacks!!!
THIS IS THE IDEAL OUTLET FOR FAMILIES CONTEMPLATING STARTING THEIR PRE SCHOOLER or ELEMENTARY AGE DANCER IN CLASSES FOR THE FALL.
One Camp, One Commitment: Three Days, Three Hours. Your Child is bound to be touched. by the Element of Family, Fun and Excitement at Essential Elements. All Sun and Sky Camps taught by Director, Samantha A Zaleski.
REGISTER HERE:
https://squareup.com/store/essential-elements-dance-studio/item/sun-and-sky-camps?t=modal-em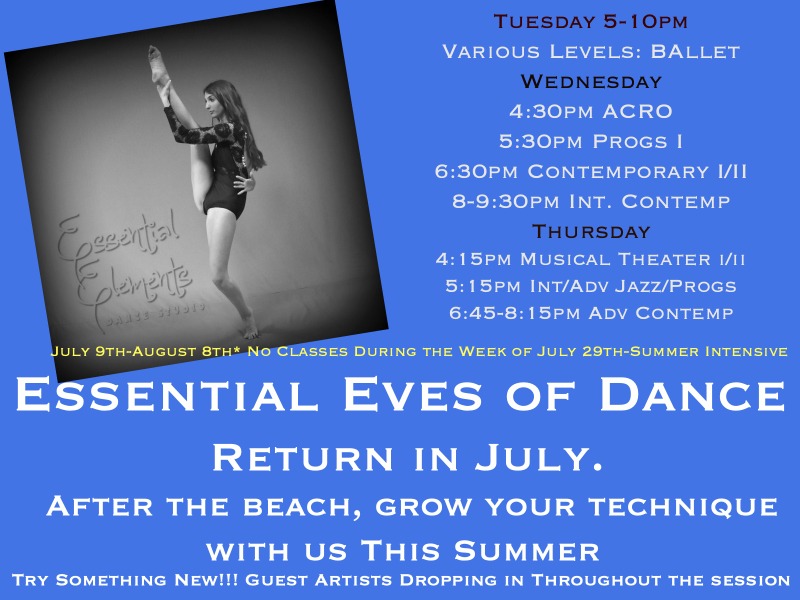 ESSENTIAL EVES OF DANCE: JULY 9TH- AUGUST 8TH.
THINKING ABOUT TRYING SOMETHING NEW?
THE SUMMER AT ESSENTIAL ELEMENTS IS THE PERFECT OPPORTUNITY TO GET MOVING IN A NEW DIRECTION.
FOUR WEEKS TO GROW YOUR TECHNIQUE OR TAKE IN A NEW INSTRUCTOR'S METHOD.
REGISTER HERE: https://squareup.com/store/essential-elements-dance-studio/item/essential-eves-of-dance?t=modal-em
Brandon Girouard brings Quest Intensive to the Studio in July!!! This will literally be the very best week of your season!!!!
Do not miss out on this Bi Yearly, in Studio Education Event.
WEDNESDAY, July 31st: AFTER WE DANCE, WE SLOW DOWN, QUIET OUR MINDS AND JOIN TOGETHER TO LISTEN TO Guest Speaker, Nicki Francis. She will present the importance of self awareness and care for our teens. Tackling some very important issues, including Suicide. All registered dancers are welcome. All students 12 and under must be accompanied by parent or guardian.
Our Studio is Our Safe Place—one more step toward creating the environment for our students to thrive and feel very comfortable in their own skin.
REGISTER HERE:
https://squareup.com/store/essential-elements-dance-studio/item/quest-intensive-july-august?t=modal-em