WELCOME TO ESSENTIAL ELEMENTS DANCE STUDIO...a contemporary dance experience.
Season Seven Begins on Monday, September 16th, 2019…
Essential Elements continues to proudly provide personalized attention and education to dancers of all ages and levels. We are located in your neighborhood; at the corner of Hazlet Avenue and Bethany Road. 732-769-2219 for details.
Essential Elements Dance Studio believes in guiding dancers to build upon their foundation of skills and enthusiasm for the arts through a technical-based studio environment. Preparing our young dancers for college dance programs and propelling performers into the professional dance world and beyond...
We hope that your journey brings you to Essential Elements, this season, for one of this fantastic classes to widen your horizons and sharpen your technique.
There still may be room for your dancer in many of our classes. At Essential Elements, we have created the ideal learning environment in our smaller classes. Contact us today to request an Essential Welcome Pac and discuss placement for your Essential Mover. EEDancestudio@gmail.com
Welcome to Essential Elements Dance Studio
EEDS Parents Enjoy Easy Virtual Payments through our SquareUp Market Place, as well as account management through our secure Parent Portal. Essential Elements continues to be a paper free, technologically savvy, and environmentally conscious studio.
Our Mockingbird Family (Scouts and Atticus Dance Company Members) continue their community outreach throughout the holiday season. We support The R.A.I.N.E Foundation and participate in the Thanksgiving Food Drive and Perform at their annual Thanksgiving Dinner at St. Ben's School, Holmdel. The dancers continue into the Christmas Season with local performances at area Assisted Living and Holiday School Functions. We wrap our season of giving with adoption of less fortunate R.A.I.N.E families of the Bayshore for Christmas. At Essential Elements, we believe that the first four months of the season are for strong technical studies and community outreach.....At Essential Elements we are creating the full experience...helping to create Dancers with Character.......
PLEASE FIND ALL OF THE DETAILS ON OUR ESSENTIAL MOVERS TAB, here.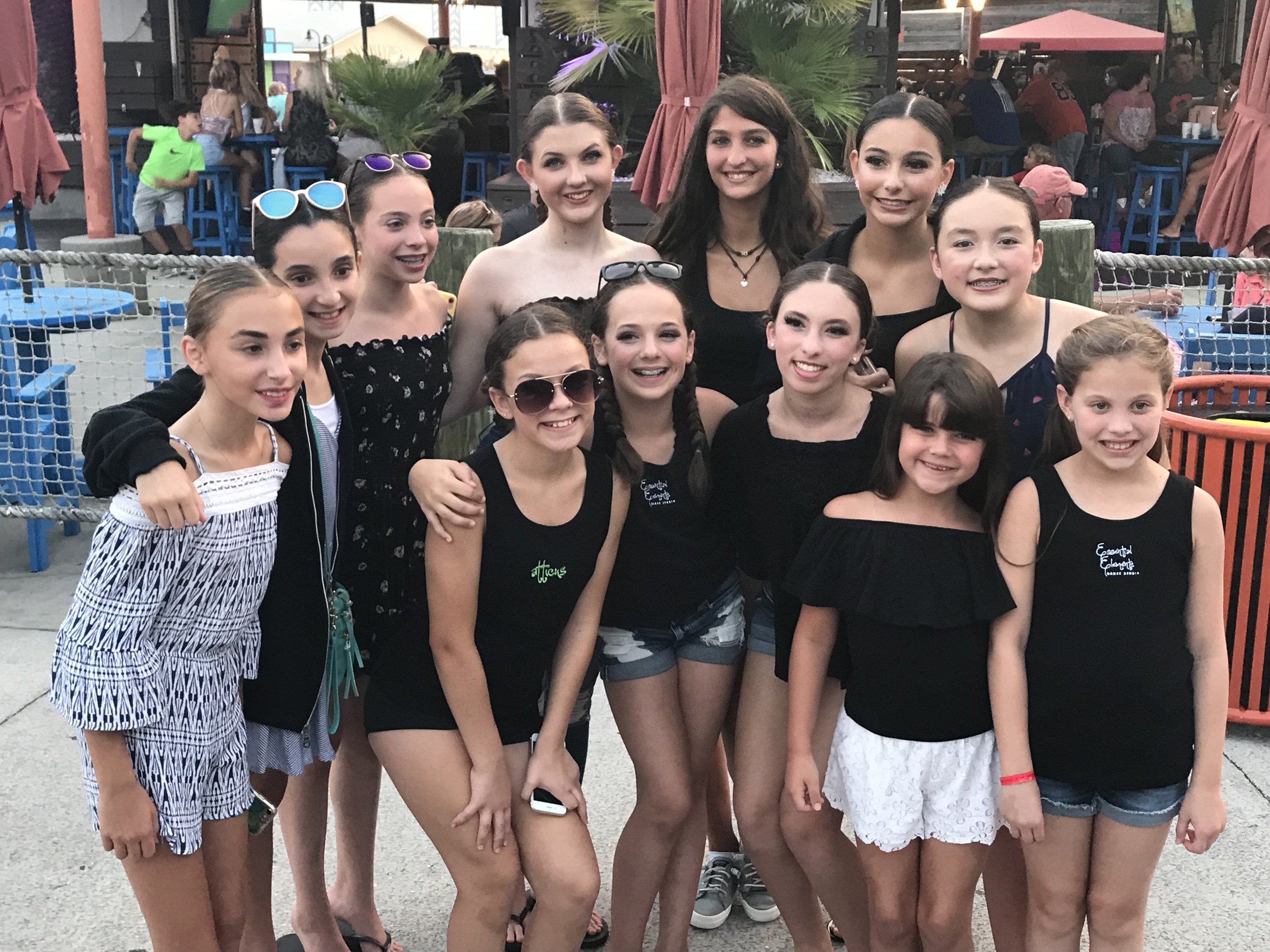 Myrtle Beach, South Carolina. July 2018. Atticus Dance Company, National Award winners, Kids Artistic Review.
EEDS Favorite, Mr. Chris Bloom, July 2018.
Amazing Master Classes and guest artists enhance our student's dance education journey.
Our Seventh Annual Fall Masterclass Series begins in September.
Six Outstanding Educators bring new genres and opportunities to our students each season.
Check Back in Late August for this season's menu!
All area dancers welcome.
Register on on Essential SquareMketplace, this Fall.
Our facility is equipped with suspended Marley floors and many eco friendly elements. We are proud to be a paper free studio and encourage our families to make payments and order EEDS dance wear from the comfort of their homes or at their convenience of their smartphones.
The focus at Essential Elements Dance Studio remains on the technical building blocks to proper dance training by adding elements to our students' education as their bodies physically mature and their dance vocabulary grows. We strive to ensure the longevity of both their interest in dance classes and the health of their developing instrument.
We look forward to sharing our passion with the next generation of expressive movers. EEDS will again bring the community a series of Master Classes throughout the 2018-19 season. It is our goal to create a cooperative learning environment within our area's student dance companies and surrounding studios, through various styles of dance and respected artists.
A Brief Snapshot of our First Five Seasons at Essential Elements. Click above.
The EEDS Family CONTINUES TO groW...
SEASON FIVE HAS ARRIVED!!! Please Visit our Social Media Outlets to stay up to date on All Things EEDS.
SIENNA ULRICH and AVA GUARCELLO were chosen as our stand out Essential Movers for Season Four. Congratulations on your Effort. Excellence. Award. We are so proud of their growth. SIENNA and AVA join our first recipients, GRACE HATTON AND ALISON SULLIVAN. They were awarded our FIRST EFFORT. EXCELLENCE. AWARD for their marked growth and continued focus in their classes, this season. The Essential Circle of Dancers is a very prestigious group of our students.
Welcome to all the new EEDS families...you are in for something different at the Essential Elements' Recital Experience. We proudly offer a stress free preparation for the show...a unique approach to year end class photos, stylish and functional recital shirts, TICKET SALE FREE show tickets. Essential Elements extends a unique experience to all families and dancers...from September through June.
Please see the ATTICUS Page for more details on the opportunities available to your dancer through ATTICUS DANCE COMPANY.
The SCOUTS: a pre- company level for dancers 9-12 years old. The PETITE SCOUTS: an introduction to a technically accelerated Elements of Dance Program: 6-8 year olds get a sample of the the pre- company program in this first step toward the ATTICUS DANCE COMPANY. Is your dancer looking for a greater challenge? Inquire today about The Scouts/Petite Scouts Program and your dancer for the 2018/19 season.